MBBS  in Belarus is a general medicine course taught in English medium of instructions fully for those who are good at English or their country official language is English.
At the Faculty of MBBS  in Belarus the educational process is provided in two languages, Russian or English, and lasts for 6 years.
Students choose themselves their desired medium of instructions.
MBBS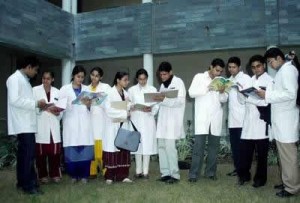 :
Duration: 6 Years
Medium Of Instructions: English
Tuition Fee: 4,300$/Year
Accommodation Fee: 800$/Year
Insurance,Visa,Medical inspection,Transport,Registration Fee,Translation and Intermediary firm charge: 1,550$
First Year Tuition Pack: 6,650$
2,3,4,5,6 Year: 5,270$/Year (Inclusive each year accommodation)
For any further questions regarding MBBS in Belarus please contact us without hesitation.
Tel:             +375 33 646 35 49  (WhatsApp/ Viber)
Skype:        live:studyoptionsbelarus
Email:      info@educationinbelarus.org